This year Redfield is donating a Battlezone 6-18x44mm scope to the Gun Blogger Rendezvous!
From the press release:
Redfield® is expanding on its popular Battlezone™ riflescope line with a new 6-18x44mm model. Designed for the AR, modern sporting or precision bolt-action rifle, the Battlezone delivers all the tactical utility demanding marksmen require at an economical price.

The Battlezone 6-18x44mm features fully multicoated lenses, Bullet Drop Compensation System (BDC) and TAC-MOA™ reticle. Pop-up, resettable 1/4-MOA finger adjustments offer tactile/audible clicks.

The Bullet Drop Compensation System comes with two adjustment dials calibrated in two of the most popular calibers for tactical rifles. The .223/5.56mm NATO dial is set up for 55gr bullets at 3,100 fps. The second dial is calibrated for 168gr .308/7.62mm NATO bullets at 2,650 fps. Each dial is marked in 50-yard increments.

The TAC-MOA reticle features stadia lines on the horizontal and vertical crosshairs set at one minute of angle (MOA) increments. This allows the marksman to quickly holdover for wind or elevation, and can be used for range estimation on objects of known size.

A fast-focus eyepiece helps shooters get on target and easily adapt to changing conditions. Like all Redfield riflescopes, the Battlezone is built to withstand the elements. 100% waterproof, nitrogen-filled maintubes prevent fogging and freezing, and are guaranteed to stay sealed for the life of the scope. The Battlezone is covered by Redfield's "No Excuses™" lifetime warranty.
This is a 1″ tube scope.  Here's what it looks like: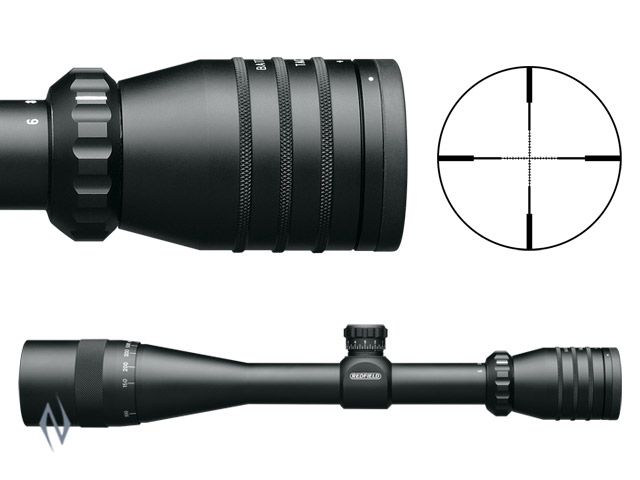 But you must be present to win! Get your reservations made and your registration sent in NOW!