I saw today in a waiting room while I was having some work done to my truck, a "motivational poster." (No, not one of these, one of the "real" ones.) This one was a beautiful image of natural stone arches against a gorgeous blue sky, with the appellation "Destiny." The quote was from Eleanor Roosevelt:
The future belongs to those who believe in the beauty of their dreams.
Judging from the result of the last election, Eleanor might well be right, and the future does belong to those people. But I cannot forget this poster on the same topic: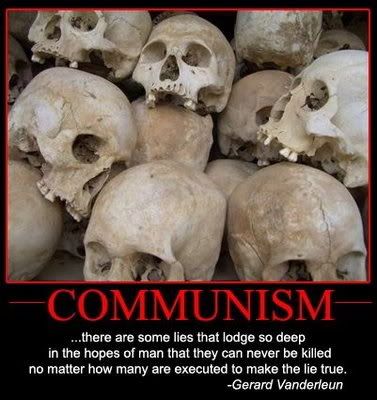 It's a beautiful dream, one people just keep believing in. But it leads to dystopia. I've quoted James Lileks before:
Personally, I'm interested in keeping other people from building Utopia, because the more you believe you can create heaven on earth the more likely you are to set up guillotines in the public square to hasten the process.
This, to me, seems the only prudent course, but we're surrounded by people for whom the philosophy cannot be wrong! And they must Do it again, only HARDER!
But the dream is so beautiful . . .