Gun-Lust.
You ever come across something that just really grabbed your attention? Something that made you say "I want that"? I feel that way about the Porsche 997 Carrera 4S, for example, notwithstanding that the cost of the car far exceeds what I originally paid for my home.
One gun I've wanted for a long time is a nice, custom Browning Hi Power, JM Browning's last (and some say best) handgun design. I already have a 1911 (yes, I know – "Only one?"), but I'd really like to have a Hi Power. Problem is, I have pretty big, fleshy hands, and the Hi Power doesn't have a beavertail frame. On the 1911, this is a simple fix – get a beavertail grip safety installed. On a Hi Power, this means welding, grinding, polishing, and refinishing. Otherwise I get to be a blood donor somewhere in the middle of the first magazine as the hammer nibbles away at the web of my hand. Even bobbed hammers aren't much of a help.
I've seen a number of nicely done custom Hi Power pistols like the ones by Yost-Bonitz Custom, but like a Porsche, they're just way too far out there in price for my wallet.
Then I stumbled across this lovely piece currently in stock at California's famed Bain & Davis gunshop: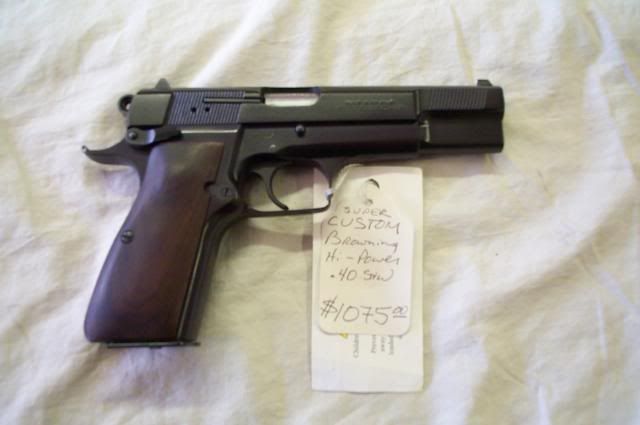 It's advertised on the GunsAmerica website: "This 40 S&W Hi Power has a custom welded beaver tail safety. 3 1/2 lbs trigger job, AO Express sights. Black Moly Coating of all steel parts. and other extras. Well, it has a beavertail, but it's not a safety. It has an ambidexterous safety, however. That is one workmanlike Hi Power, and it's not outrageously priced.
But I just put new brakes and four tires on my truck. No can do.
It's fun to look, though. Maybe next year.
(*sigh*)