Well. THAT was Different!
I shot my first night match yesterday. The Tucson Action Shooter's Club runs its Summer matches in the evenings. I missed last month's because even at 4:00PM the temperature was still 108°F. I enjoy shooting, but even I have my limits. However, yesterday it wasn't too bad, and despite the prediction of rain it didn't look likely, so off I went on my 37 mile drive to the Tucson Rifle Club. According to the web site, the shoot is supposed to start at 18:00 (that's 6:00PM for us regular folks) but I got there at just a bit after five, figuring I'd help set up.
I was the first one there.
Nobody else showed up until nearly six.
The first shots didn't go downrange until about 7:00, as the sun was setting over the berm – directly into the eyes of the shooters.
We shot four individual stages, and two "team" stages. While we were shooting, we watched a spectacular thunderstorm roll over the greater Tucson area (well to our East and North). The weather was warm, but there was a constant, cooling breeze. It was very pleasant. As the day got darker, we ended up shooting under the lighting of halogen lamps, and one stage was shot illuminated only by traffic flares.
I had a couple of malfunctions. I didn't seat one magazine properly and resulted in a jam, and on one stage I decided to switch from my Kimber Classic to my Eclipse because the Eclipse has tritium night sights. Mistake! I haven't shot the Eclipse enough and it still needs breaking in. I had a jam with it, too. I was reminded of a line from the movie The Ghost and the Darkness when one hunter is convinced to leave his trusted 7×57 Mauser in favor of a bigger caliber rifle – that fails him at a crucial instant, nearly getting him killed:
You went into battle with an untested weapon?
Oops!
Oh well, while I wasn't a speed-demon, I didn't finish last either.
Now I need to find a fiber-optic front sight for my Kimber Classic. On one stage, lit from behind the shooters, the front sight just disappeared on me. I actually looked at the pistol to make sure it hadn't fallen off! It was still there, but the lighting gave it the same albedo as the backstop and targets.
We finished shooting just after 9:00PM, as the tail of that big storm was sweeping Westward toward the range. There was a mad hustle to get the targets, stands, and barriers into the storage container before it struck. There was a lot of nervous joking about handling lightning rods as we picked up. I got off the range about 9:20, and drove through some of the hardest rain I've seen in a while. What was normally a 45 minute trip turned out to be almost an hour. It was a good shoot. I look forward to next month's.
Here's a good example of what you can expect to see when Michael Bane films the Para/Blackwater shoot next month: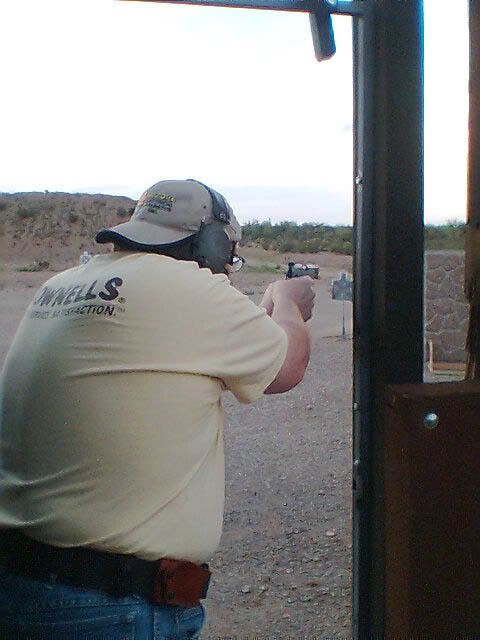 I hope they edit.
A lot.
Edited to add: Muzzleflash is COOL!