…many people in the international media, international agencies, and international NGOs (not to mention academia) are reluctant to face up to the crimes committed by Communism in the name of equality. To do so might call into question the weight attached by them to equality as the most important social value and undermine the multicultural faith that evil is predominantly the product of inequality, racism, ethnic hatred, or religious fanaticism. That cannot be permitted, so such crimes must be either ignored or mislabeled. And, of course, the remaining Communist regimes in the world are only too happy to cooperate in characterizing the killing fields as the products of irrational paranoia on the part of Pol Pot and his gang rather than the perfectly rational result of the quest for perfect equality. — Douglas B. Levene, Reflections on Cambodia, National Review Online
Time for this picture again: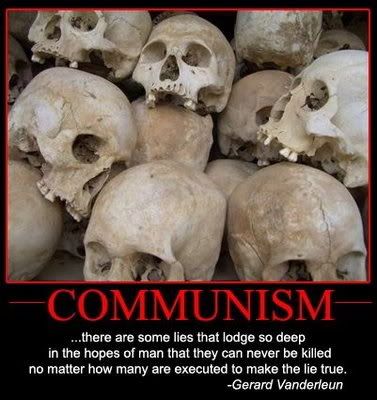 Remember: The slaughter isn't a bug, it's a feature.