Seems to work over there as well as it does everywhere else:
Perverted gynaecologist who kept sick photos of his patients also owned nearly 1,000 guns

Police have discovered a gynaecologist was storing nearly 1,000 guns as well as keeping photos of his patients' private parts.

The medic, Dr Christian Koller, stored the pictures in hidden cupboards and safes in his Munich office and apartment, alongside machine guns, rifles, pistols and thousands of rounds of ammunition.

The officers were conducting a raid on the surgery after former patients made a complaint of malpractice against him and were not expecting to find over 700 guns.

Police say the doctor – who has surrendered his medical license – told them he was an 'obsessed collector.'

'He has a collector's licence to keep some of the weapons as historic firearms but nothing on this scale,' said a police spokesman.
His junk-on-the-bunk picture actually qualifies as an "arsenal" for a change!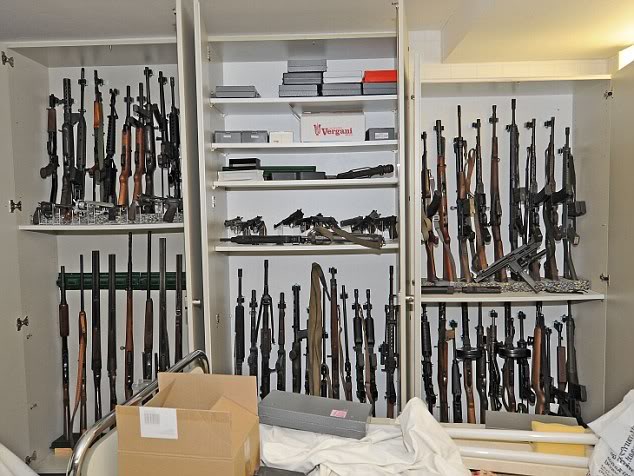 There look to be several select-fire and full-auto weapons in there, too.  I see only sixty or so guns in that shot, so there has to be 10x that many we haven't seen.  Obviously enough to get the Daily Mail editor's knickers in a twist, since "over 700" and "nearly 1,000" are separated by, oh, about 300.