So Florida Senator Bill Nelson has posted a survey on his .gov homepage asking "Would you favor reinstating the federal assault weapons ban that expired in 2004?"  Of course I had to register my vote.  But when the results popped up, I was certain I was at a .gov website: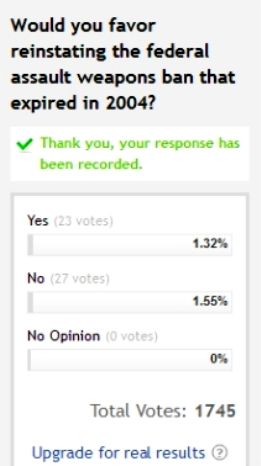 If you can't read that, it says 23 votes "Yes," 27 votes "No," total votes 1745.
So apparently no one on the Senator's staff can find a real online poll service?  Or is this just to prevent the Senator's embarrassment when the actual results come back 3:1 against reinstating the ban?
Yeah, your .gov at work for sure.
—
UPDATE: Somebody finally got it working. At this time, 4,398 votes – 4319 "No," 67 "Yes," and 12 "No Opinion."  Oh, and that's 64.5:1