My favorite local Merchant O'Death reports:
So, three days after the shooting in San Bernardino and we still have ARs on the shelf. As a matter of fact, we have sold a whopping total of TWO ARs and have put one on layaway. No other type of "assault rifle" has left the shop. I have yet to sell a single hi-cap mag for any type of long gun. Still have plenty of .223/5.56, .308, 7.62X39, 9mm, .40, .45ACP, .380 auto, .38 Special…..hell, we have a lot of everything except .22LR and .22 Mag.

We have been really busy the last three days for sure. I would attribute that to the usual hustle and bustle of the coming holiday but I know better. I have yet to hear a customer say "I want to get my husband/wife/boyfriend/girlfriend a gun for Christmas…." Judging by some of the purchases I have no doubt that some of the firearms being bought are to be stashed under the tree. Most of them are obviously being purchased to be stashed in purse or pocket.

Compact, concealable handguns are making a mass exodus along with spare magazines/speed loaders and the attendant ammunition. The majority of the buyers are older folks, men and women, couples and singles The usual "tacti-cool" crowd are noticeable by their absence. A large proportion of the buyers are inquiring about CCW classes as well as basic firearms handling courses and public ranges.

While there is no sense of hysteria among our patrons, there is an increasing amount of concern being voiced. Not so much about the political climate but more about the fact that the shooters in California had links to terrorists organizations in the Middle East. I do sense a bit of shock in a lot of folks as if they have finally realized that the threat is very real and not just something that happens "over there".

I would imagine that the SAR show in Phoenix this weekend is doing a land office business. I'll be interested to see what Monday brings. I do believe that POTUS is going to address the nation tomorrow regarding the recent event. This should be stunning….
I wonder if Tam is seeing similar things in Indiana.
ETA, 12/10/15:  The Washington Post reports: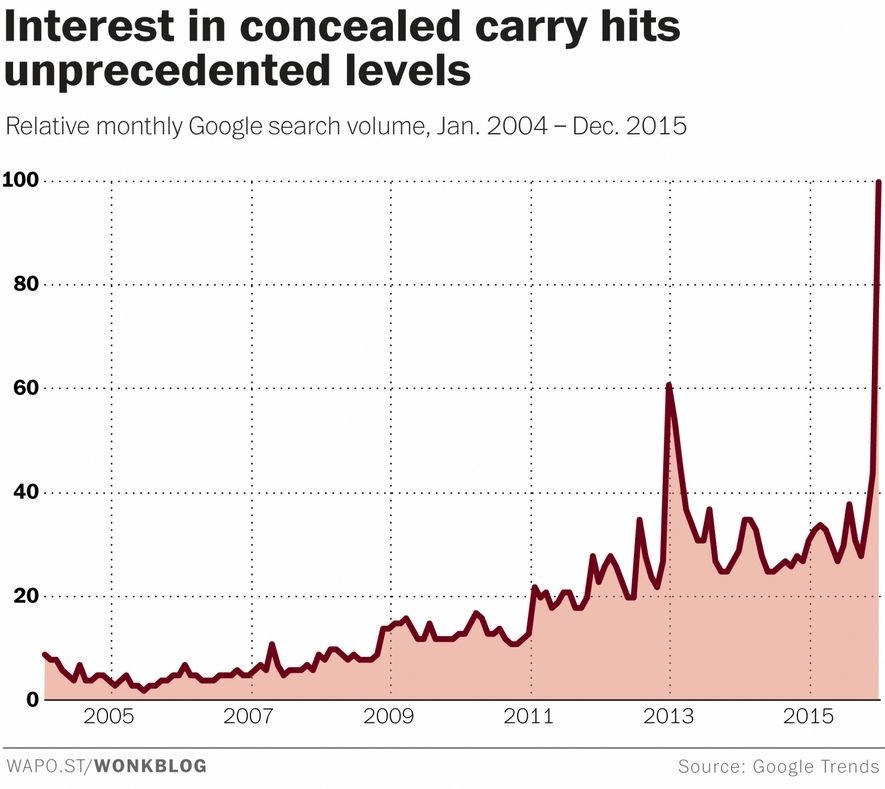 Read the whole thing.