We know already that President Biden and the Democrats are willing to pack the court if they conclude they have lost control over it. They admitted as much during the 2020 election. "Packing the court" is just a euphemism for destroying it, as it would then become just another political branch of the federal government. This should not surprise us. Whenever the left feels they have lost control of an institution, they try to destroy it.

The Constitutional Crisis That Roe v. Wade Set In Motion Is Now Upon Us – John Daniel Davidson, The Federalist, May 4, 2022
As Iowahawk put it,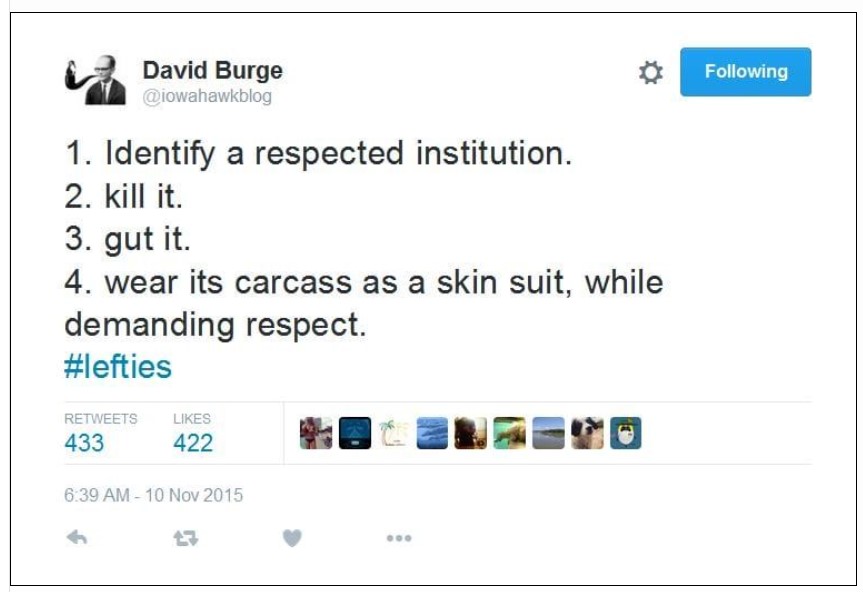 Davidson opened the piece with:
Roe sowed the seeds of a crisis that will end with America ceasing to be divided: we will become all one thing or all the other.
I don't think so. But it may finally bring the inevitable internal conflict to a head, as ugly as that will get. Then we'll see what the rest of the world does when the United States isn't there to pick up the pieces anymore. Personally, I don't think we're quite at the edge yet. This will be another "Great Leap Forward" towards that end, but I'm holding out for at least the 2020 mid-terms, more likely the 2024 Presidential election. What I expect will happen in the mean time is some more sporadic violence from the Left.