I want to give this guy props for trying, but more importantly, I want more people to be aware, that he is EXCEPTIONAL, not average. He's TRYING.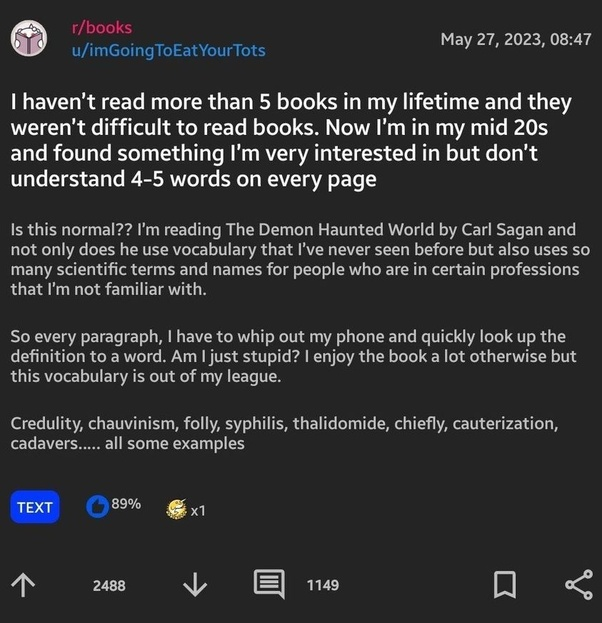 According to the U.S. Department of Education, 54% of U.S. adults 16-74 years old – about 130 million people – lack proficiency in literacy, reading below the equivalent of a sixth-grade level.
Per another study, "One out of every five bachelor's degree holders among employed college graduates ages 21 to 65 lacks minimum skills in literacy. For numeracy, the number is one in three."
Employed. College. Graduates.
Literacy has declined, according to John Taylor Gatto, from 96% in 1942, to 81% in 1955, to 73% in 1973. Today it's 46%. The Department of Education was formed in 1979 in part to combat the trend. The 1983 report "A Nation at Risk" declared:
"Our once unchallenged preeminence in commerce, industry, science, and technological innovation is being overtaken by competitors throughout the world. This report is concerned with only one of the many causes and dimensions of the problem, but it is the one that undergirds American prosperity, security, and civility. We report to the American people that while we can take justifiable pride in what our schools and colleges have historically accomplished and contributed to the United States and the well-being of its people, the educational foundations of our society are presently being eroded by a rising tide of mediocrity that threatens our very future as a Nation and a people. What was unimaginable a generation ago has begun to occur–others are matching and surpassing our educational attainments.
"If an unfriendly foreign power had attempted to impose on America the mediocre educational performance that exists today, we might well have viewed it as an act of war."
It was an act of war. But a foreign power wasn't responsible.
It's easier to control a population that cannot think.