Hey! Whaddaya Know? The Village Voice IS Good for Something!
From a comment left at The Mudville Gazette comes a link to this Village Voice piece that absolutely RIPS Kerry on his chairmanship of the Senate Select Committee on P.O.W./ M.I.A. Affairs.
Excerpt:
The stated purpose of the special Senate committee—which convened in mid 1991 and concluded in January 1993—was to investigate the evidence about prisoners who were never returned and find out what happened to the missing men. Committee chair Kerry's larger and different goal, though never stated publicly, emerged over time: He wanted to clear a path to normalization of relations with Hanoi. In any other context, that would have been an honorable goal. But getting at the truth of the unaccounted for P.O.W.'s and M.I.A.'s (Missing In Action) was the main obstacle to normalization—and therefore in conflict with his real intent and plan of action.

Kerry denied back then that he disguised his real goal, contending that he supported normalization only as a way to learn more about the missing men. But almost nothing has emerged about these prisoners since diplomatic and economic relations were restored in 1995, and thus it would appear—as most realists expected—that Kerry's explanation was hollow. He has also denied in the past the allegations of a cover-up, either by the Pentagon or himself. Asked for comment on this article, the Kerry campaign sent a quote from the senator: "In the end, I think what we can take pride in is that we put together the most significant, most thorough, most exhaustive accounting for missing and former P.O.W.'s in the history of human warfare."
And dig that graphic: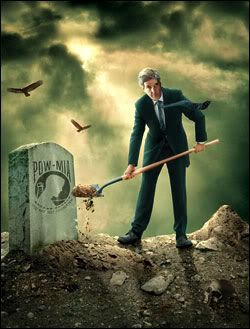 What does it say for a rag as Leftist as The Village Voice to publish so devastating an anti-Kerry hit piece?
Perhaps I was wrong, and it's not too late for the Dims to "Torricelli" him! I'm sure Hillary is just waiting in the wings to be "drafted" at the last minute and "save the nation."