Welcome Back My Friends to the Show that Never Ends,
We're so glad you could attend. Come inside, come inside!
Welcome to the 99th Edition of the Carnival of the Vanities. (What did I get myself into?) I've decided to go with a carnival theme this week (there's an original idea!). So let's get to it, shall we? Here they are in the order they were received:
First up, the ticket booth!

Elliot Fladen of The Fladen Experience gives us his take on why Voting Third Party Is Not Throwing Your Vote Away. You tell 'em, Elliot!
For the entertainment of the kiddies, there's an inflatable boxing ring!
And from the blog The Watcher of Weasles, the Watcher sends us He Fought for His Country… Before He Fought Against It. Guess who it's about?
Remember the Shoot the Star game? Where you use an air-powered BB machine gun to shoot out the red star from the center of your target to win a prize?
Ravenwood sends us his first Carnival entry for a while, this one entitled Police Confiscate 500-1000 Guns. It seems that a gun registered to a Thad Shank, a 63 year-old New York man was recovered as stolen property. When the police went to visit Mr. Shank…
Well, let Ravenwood take it from there.
I know this is a Carnival, but there's some 4H farm animals here too. Here are the prize sheep:
Which brings us to Pieter Dorsman's entry. Pieter is proprietor of the blog Peaktalk, and this week's entry is described by Pieter as "about the inability of political elites to drive a society forward with fresh ideas." It's entitled Progress by Ideas.
And there's clowns! Little kid clowns!
Because Norman of Espresso Sarcasm sends us his entry, The Top Ten Signs it's Time for Your Spawn Kids to Go Back to School. And it's a good list.
Food? Of COURSE there's food!
Hungry? 'Cause Autie Goob of Goobage sends us her entry, "Linking statins, low-carb diets, diets in general and Teflon." Entitled, More on Statins (and then low carb). Yuuuum, yum!
What is this, a Circus? Well, here's a juggler!
For John Ray has given us not one, not two, not three, but FOUR entries this week from FOUR DIFFERENT BLOGS! (I barely have time to manage ONE.)
From Gun Watch, he has a post that "points out that a liking for guns is perfectly normal among the hunters that human beings evolved as."
From Dissecting Leftism, a post that "points out that the Vietnamese "Communist" regime that the Left so loved in the 1960s was in fact a Fascist regime"
From Greenie Watch, a post that "reports that acid rain has once again been found to be beneficial rather than harmful"
And, finally, from Political Correctness Watch, a post sure to stir up some reaction, entitled "Blatant Anti-White Racism Thwarted in UK"
Try to keep all those balls in the air, John, would you?
Next up! So you WON the Shoot-the-Star game? And all they gave you was a Dilbert doll?
How appropriate! Because Bussorah of Wicked Thoughts sent us Office Nuttiness – a Top 10 list of quotes from the office sure to appear soon in a Dilbert strip. (My favorite is #2.)
But you say you "accidentally" shot your little brother in the ear with the BB gun? Well then, its off to the First Aid tent!
Because Beck of the blog INCITE writes there on The Case Against Socialized Health Care
It's only a flesh wound. Give him a band-aid and a purple heart!
Hey, everybody! It's time for the next Wild West Show!
And La Shawn Barber gives us her entry, I Am a Native American. Me too, La Shawn. Me too.
Whew! That was fun! Hey kids, how about a sack race?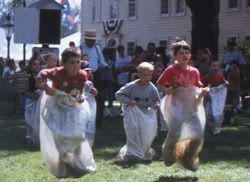 Brian J. Noggle muses on the news that President of the United Nations General Assembly, Julian R. Hunte appealed to all States to demonstrate their commitment to peace by observing the traditional truce during the Summer Games. He's got an interesting observation in his post Bistandardathon
Wanna play tag in some BUMPERBOATS?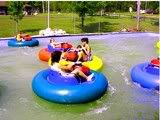 John Moore of Useful Fools writes about The Mystery of Kerry's Crew in this week's Carnival entry.
Shield the kids! It's the Ambiguously Gay Duo!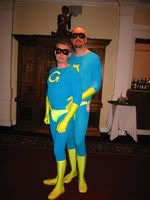 Alan K. Henderson gives us The Unasked Question for this week's entry. Is it, or isn't it?
Want another Dilbert doll? Step right up and try the Football Toss!
Northstar from The People's Republic of Seabrook tells us that the Dolphins may be looking to get some of their money back from Ricky Williams. The only people who win here are the lawyers.
Hey! Look in this tent! A magician's gonna cut off a guy's head!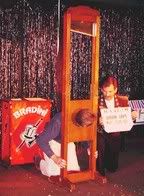 Eric of Classical Values writes Defending the Indefensible?, about the guy who did the video faking his own beheading.
MAN those Carnival barkers are annoying! They won't shut up, and they won't take "NO!" for an answer.
Erik Erickson of Confessions of a Political Junkie gives us Alan Keys – The Right Disaster – another guy who "won't change his mind, and won't change the subject."
You've got a blister on your heel? Well, there's the Paramedic's ambulance. Go ask for a plaster.
But don't ask for any OxyContin! RoguePundit writes this week about doctors and pharmacists living with the accusation of over-prescribing six years after the the allegations came out. People who have still been found guilty of nothing, but are paying the price in Ruining Lives with Allegations
I'm tired. Let's go in here and listen to the Storyteller for a few minutes.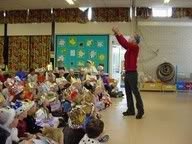 Donald Crankshaw of Back of the Envelope gives us a taste of his original piece Hunter of Shades and a little background on it.
Say "Hello!" to the nice security guard!
The King of Fools writes this week about "how federal agencies eventually reach a point where their rules and internal culture preclude them from accomplishing their original purpose," in this case, Federal Air Marshals, in Secret Agent Man.
MAN that Oompah band is loud!
I had no IDEA you could do "Stairway to Heaven" on a tuba! Caleb Walker gives us a short trip down Memory Lane – the "Classic Rock" Memory Lane – in rockin'.
Let's ride the rockets!
Graham Lester of point2point writes on Kim Jong (mentally)-Il's missles in Enemies Within? A Synopsis of the North Korean Missle Scandal.
Next, the FuNHouSE!
Les Jones discusses when (and when not) to capitalize in Upstyle and Downstyle in Blog Headlines – a tutorial for us bloggers.
I'm HUNGRY again. Let's stop at this trailer and see if they've got some fried chicken!
Last One Speaks gives us another interesting story in the idiotic War on Some Drugs™. In Marijuana Raiders get Chicken we find that the Santa Clara County Sherrif's Dept. managed to snag themselves dozens of fighting roosters after a week-long stakeout at a suspected marijuana farm. Can gamecocks fight stoned?
Wow! Look at all the flags from all the different countries!
Pietro The Smarter Cop reminds us that our foreign "allies" don't show any enthusiasm for joining us in Iraq, no matter how much John Kerry tells us that he'll get "international cooperation" if he's elected, in Where are All Those Unnamed Foreign Allies Now?
Ooh! Pizza! Gotta have a slice!
While munching on a piece of pepperoni himself, Doug of Considerettes found that Boston Herald piece on the benefits of Acid Rain, and a link to the original BBC piece on it, too, in Global Warming Update.
Damn, that juggler does get around!!
This time, though it's JFelik with multiple blogs – and a baby girl! From his blog Man Meets Baby comes More lessons from my baby girl. (And you thought the juggler was a bad metaphor!) Then from his other blog Quibbles-n-Bits comes a warped fairy-tale – Tale of a Pretty Princess – a birthday gift to Dana of Eat the Lettuce
Let's not see the sideshow freaks.
Idler Yet also thinks it's a bad idea to run Alan Keys against Barack Obama in the Illinois race, as he makes it perfectly clear in Exactly Wrong.
It's all about the kids, you know…
As Da Goddess reminds us in What Really Matters
Man, why don't these people learn English? I couldn't understand a word that ticket-taker said!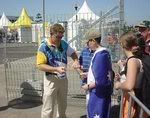 And Interested Participant has a post up about just that subject in The English Language.
At least now we can get into the House of Horrors!
Though Francis W. Porretto's piece on the Conservative reaction to Dennis Hastert's idea of eliminating the income tax is frightening enough. Read Counsels of Despair.
Hey! They've got a Hall of Presidents just like Disneyland's!
And Triggerfinger.org give us a four-part essay on Governing by Consent.
Salad?!? Who eats a salad at a Carnival? What you want is COTTON CANDY!
The Fusilier Pundit of WeckUptoThees! give us his post, My Salad Days about when he got crosswise with the ACLU over their position on the Second Amendment. (I've got a post up on that topic as well over there on the left sidebar – "The ACLU Hasn't Changed It's Tune")
And after a long, full day at the Carnival, we head out for the emptying parking lot
with one last submission. Jeremy of Parableman gives us an energetic sendoff with White Liberal Racism.
That's thirty-three (33!) entries this week. Whew! I'm beat! Another slice of pizza? Well, if you twist my arm…
The Carnival of the Vanities continues…
August 18th – Fringe

August 25th – Ego

September 1st – Blogo Slovo

September 8th – Food Basics

September 15th Silflay Hraka – The Two Year Anniversary

September 22nd – The Eleven Day Empire

September 29th – Last One Speaks

October 6th – Incite

October 13th – Conservative Dialysis

October 20th – The People's Republic of Seabrook

October 27th – The Twins Tell the Truth