Perhaps Justice Ginsburg Should Arm Herself?.
Justice Ginsburg Reveals Details of Threat

Supreme Court Justice Ruth Bader Ginsburg said she and former Justice Sandra Day O'Connor have been the targets of death threats from the "irrational fringe" of society, people apparently spurred by Republican criticism of the high court.

Ginsburg revealed in a speech in South Africa last month that she and O'Connor were threatened a year ago by someone who called on the Internet for the immediate "patriotic" killing of the justices.

Security concerns among judges have been growing.

Conservative commentator Ann Coulter joked earlier this year that Justice John Paul Stevens should be poisoned. Over the past few months O'Connor has complained that criticism, mainly by Republicans, has threatened judicial independence to deal with difficult issues like gay marriage.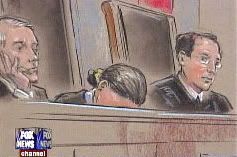 As AR15.com contributor gardenWeasel put it, "She's not losing any sleep over it."
What, nobody ever threatened Scalia and/or Thomas?