Mean-Spirited and Dangerous vs. Brilliant and Profound
Los Angeles Urban Policy Roundtable President Earl Ofari Hutchinson is calling the depiction [of Obama as the Joker], politically mean spirited and dangerous.

Hutchinson is challenging the group or individual that put up the poster to have the courage and decency to publicly identify themselves.

"Depicting the president as demonic and a socialist goes beyond political spoofery," says Hutchinson, "it is mean-spirited and dangerous."

"We have issued a public challenge to the person or group that put up the poster to come forth and publicly tell why they have used this offensive depiction to ridicule President Obama."
That would be this poster: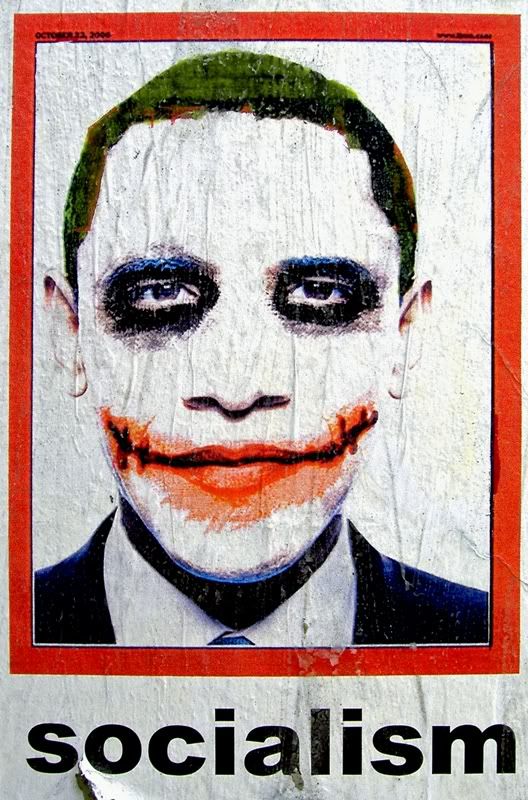 However, when Vanity Fair published this picture of George W. Bush in July of 2008,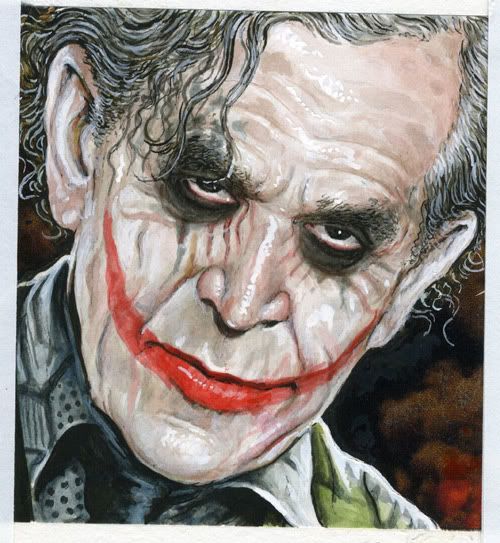 basically the instant the movie opened, the comments were somewhat different:
Great stuff from the talented Friedman (as always). As "agents of chaos" go, W's right up there with the best of 'em.
Posted 7/29/2008 by Frankie5Angels

So true. Only his puppet strings are missing. 🙂
Posted 7/29/2008 by MimiSoleil

Very good!!!
Posted 7/29/2008 by juckto

Poor Joker, he doesn't deserve this. Bush isn't good enough to wear his face.
Posted 7/29/2008 by japsmov

Brilliant and profound.
Posted 7/29/2008 by swordofdamocles
We knew who'd done it. It was "brilliant and profound"! No one even thought to ask "why?" No one in media considered it "mean-spirited and dangerous." Of course, this was back when dissent was the highest form of patriotism. Now that the Left has its hands on the levers of power, we're supposed to shut up.
Double standard? What double standard?