. . . when you can't carry a gun.
I live in Arizona. It tends to be a bit warm here nine months out of the year. And (to put it mildly) I'm on the husky side. My preferred carry piece is a 1911, but it's tough (for me) to wear clothes that will adequately conceal such a piece, whether it's my full-sized Kimber Classic, my Para USA Commander-sized Gunblog 45, or my Kimber Ultra CDPII.
Well, conceal it and still give me reasonable access to it.
Recently I've been toting a S&W Model 60 2″ snubbie .38 revolver in the front pocket of my jeans, but it's just a little bit lumpy. My (ex-)boss purchased a Kel-Tec PF9 a while back, and I found that I really liked it – 7+1 rounds of full-house 9mm (+P rated, but not as a steady diet) in a pretty tiny package that still offered reasonable sights.
I picked one up a couple of days ago. I still need to do a "fluff & buff" on it, then run a couple hundred rounds through it, but I think this will easily fill the bill for the gun I carry when I can't carry a gun. Mine looks just like this one: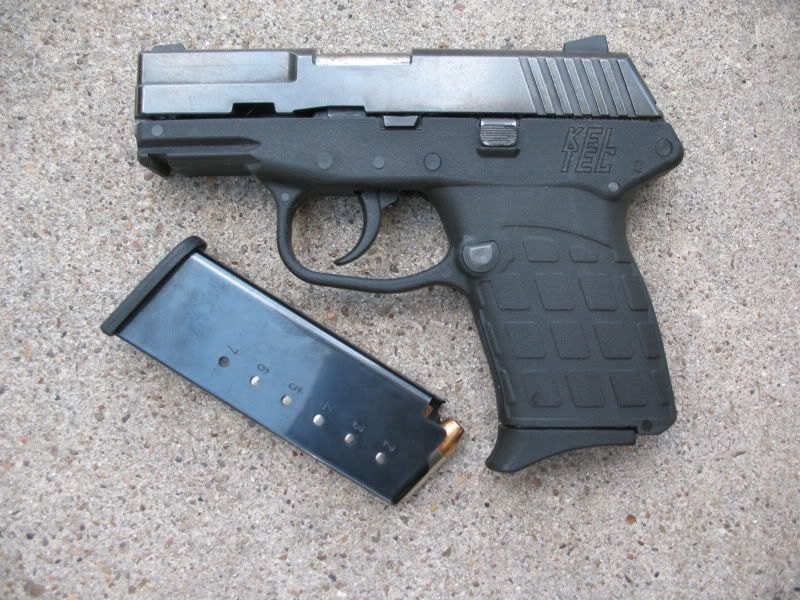 The slide is hard-chromed on mine.