All the News That Fits the Agenda
I really get a kick out of Matt Drudge and his skill at arranging (and titling links). Example: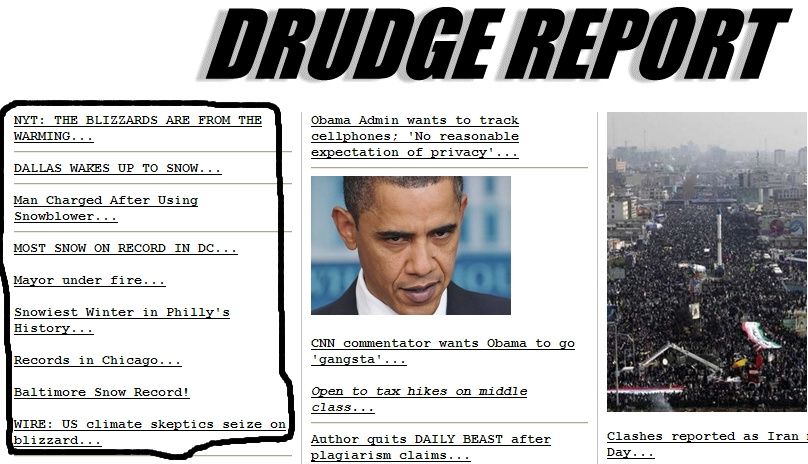 The authoritative New York Times tells us that all this cold and snow we're getting may be the result of Global Warming! (Which even the high priests of Global Warming have admitted has been on a ten-year hiatus and they don't know why: "The fact is that we can't account for the lack of warming at the moment and it is a travesty that we can't." Kevin Trenberth from the East Anglia computer hack/leak.)
But the philosophy cannot be wrong!
However, there's this interesting bit of continuing fallout concerning the "Paper of Record":
UPDATE 3-New York Times ad outlook dim, shares fall

Print advertising declines to continue in first quarter

* Q4 adjusted EPS $0.44 vs $0.38 average analyst estimate

* Q4 revenue down 11.5 percent to $681.2 million

* Shares down almost 9 percent

NEW YORK, Feb 10 (Reuters) – The New York Times Co (NYT.N) warned on Wednesday that print newspaper advertising will continue to decline, sending shares down nearly 9 percent, even as the company slashed costs to reach a higher-than-expected fourth-quarter profit.

The results, like that of other U.S. newspaper publishers, show that revenue declines are easing as the economy improves and advertisers are taking ginger steps back into the market. Even so, they are reducing what they spend on print media anyway, keeping newspapers' long-term futures uncertain.
Obviously this is yet another of the myriad of problems we're told that are caused or worsened by Anthropogenic Global Warming!