According to Wikipedia:
Kabuki is a classical Japanese dance-drama. Kabuki theatre is known for the stylization of its drama and for the elaborate make-up worn by some of its performers.
The individual kanji, from left to right, mean sing, dance, and skill. Kabuki is therefore sometimes translated as "the art of singing and dancing". These are, however, ateji characters which do not reflect actual etymology. The kanji of 'skill' generally refers to a performer in kabuki theatre. Since the word kabuki is believed to derive from the verb kabuku, meaning "to lean" or "to be out of the ordinary", kabuki can be interpreted as "avant-garde" or "bizarre" theatre.
Apparently, it can also mean "Senate Democrats Trying Desperately to Change the Subject."
In the summer of 2010, it was Harry Reid, the Senate's Democratic leader, who squelched his party's efforts to pass a climate change bill, declaring it could never attract enough votes to pass. In the years since, he has rarely spoken publicly about the issue.
But on Monday night, an impassioned Mr. Reid took to the Senate floor to kick off a nearly 15-hour climate-change talkathon by about 30 Senate Democrats, part of a campaign by a new Senate "climate caucus" to make it a politically urgent issue.
Yeah, it's "politically urgent," all right. Getting Obamacare off the front page is their FIRST priority.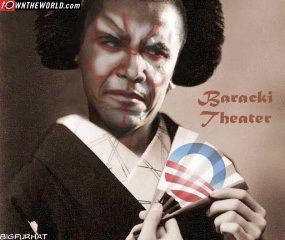 Edited to add:
I stumbled across something that fits this post perfectly. From James Lileks a while back:
If everyone in America had been tied to a chair and forced to watch the debate Clockwork-Orange style, we'd all realize that the Senate is just a holding tank for people whose self-regard and cretinous reasoning is matched only by their demonstrable contempt for the idiots they think will lap this crap up.